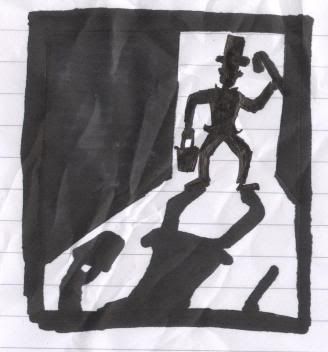 I believe I am free of imminent danger for the time being, but feel like a shattered mirror on a trampoline, each bouncing smithereen vertiginously reflecting a myriad spinning gyroscopes, revolving glitterballs, and fractured Curly-Wurlys, with the concomitant seven year's bad luck thereby multiplied twelvehundred-fold.
I awoke this morning quivering from nightmares too grim to recount, and able to recall but snippets of the past days' horrors. I know that I was rarely conscious for long, the events I experienced too heinous to tolerate human cognizance. Uncle Joe kept me trapped in the kitchen and subjected me to tortures unspeakable, a new session of misery always announced by him throwing open the door and casting his shadow across the floor, revelling momentarily in the effect his ghastly silhouette wrought upon my form.
Just moments ago, he stormed into the room brandishing a tawny owl and an antique roulette wheel, no doubt having dreamt up some new torment for me, but as he approached, the telephone rang.
"Answer that chuck," he said, eerily switching his accent to disorienate me, "But don't be letting on that there's owt amiss, mind."
I obeyed at once, and discovered that it was Professor Jessica Flitey of the University of Duncairn, an apparent friend of mine. She has long been interested in the curious things that afflict me, and claims to want to free me from these. She announced her intent to visit me within the next few days, to which I agreed.
At the instant I mentioned aloud the name "Flitey", Uncle Joe's face contorted.
"Bloody Norah! So, she's 'eadin' this way, eh lad?" he said, "Time I were gone then, chuck, but you mark well these words, lad: I'll be with you on your wedding night."
And with that, he squashed himself up into his top hat, which he then swallowed, and so disappeared completely from my ken.
I am too tired to worry unduly over his parting words. I must rest now.